Published on January 16th, 2018 | by Ozlem Avcioglu
0
New York Guide : Discover The Latest Coolest Places
New York is the worlds most dynamic city. But especially in recent years New York's hotel and food scene evolving so fast, it's hard to keep up . The newest restaurants and hotels opened their doors… I have visited many of them recently and made a best new must visit places guide for the luxury and trend lovers.

La Mercerie, the cafe, bakery and restaurant in the furniture and design store Roman and Williams Guild is the newest talk of the town place. Marie-Aude Rose — a celebrated Parisian chef who has cooked at Pierre Gagnaire and alongside her husband, Daniel, at their now-closed restaurant, Spring — will serve what she describes as "simple but refined" French food. But after enjoying dishes like vegetables cooked in saffron broth beneath a puff pastry dome or buckwheat crepes with seafood in a sauce Nantua, diners can order something to go: the plates, the napkins, the tableware, the candlesticks and even the tables.
The Lobster Club in the Seagram Building is the latest 'See and Be Seen' Midtown Space. It is a Japanese Brasserie by Major Food Group. It was designed by Peter Marino, and with chef Tasuku Murakami at the helm, this concept celebrates a unique interpretation of Japanese cuisine. Peter Marino has designed, commissioned and selected every item in the room from uniforms to floors, original Picasso Plates to Marino-Designed Picasso-inspired sculptures, to the chopsticks and the bar stools.

Within the majestic walls of one of New York City's most exceptional landmarks, a new paradigm for luxury hotels in Lower Manhattan has emerged. An architectural gem, hailed for its iconic nine-story atrium and pyramidal skylight, The Beekman unites some of the world's greatest talent, including the sophisticated design of Martin Brudnizki and the culinary cachet of restaurateur and chef Tom Colicchio. Tom Colicchio reflects on the cultural and culinary history of lower Manhattan to serve a menu of quintessential New York City dishes at Fowler & Wells.
The dining room, set with rich, jewel-toned furnishings and antique accents, establishes Fowler & Wells as a one-of-a-kind setting for dining in lower Manhattan.The Bar Room at Fowler & Wells is located beneath The Beekman's stunning, nine-story Victorian era atrium and offers a singular New York setting to enjoy a list of handcrafted cocktails alongside an all-day menu. With plush lounge seating and a distinctly old New York feel, The Bar Room at Fowler & Wells is a new entry in New York City's canon of destination bars.
The boutique hotel also features a restaurant by Keith McNally, his first in the neighborhood, newest boîte, Augustine is the latest table in Manhattan.  It could be the local bistro vibe and décor, the Shane McBride and Daniel Parilla–derived menu, or the lavish cocktails and wine list . But the real reason for the endless wait list is the cozy ambiance, attentive service, and stellar cuisine a Parisian meal.
The Flora Bar is inside the Met Breuer Museum, Marcel Breuer's blunt and muscular stack of granite and concrete on Madison Avenue in the 70s, regarded as a masterpiece of the brutalist style.  With 74 seats, plus a full-service daytime coffee and sandwich bar. It's located on the bottom floor of the Met Breuer museum and under the direction of Chef Jake Nemmers. Its best for a lunch.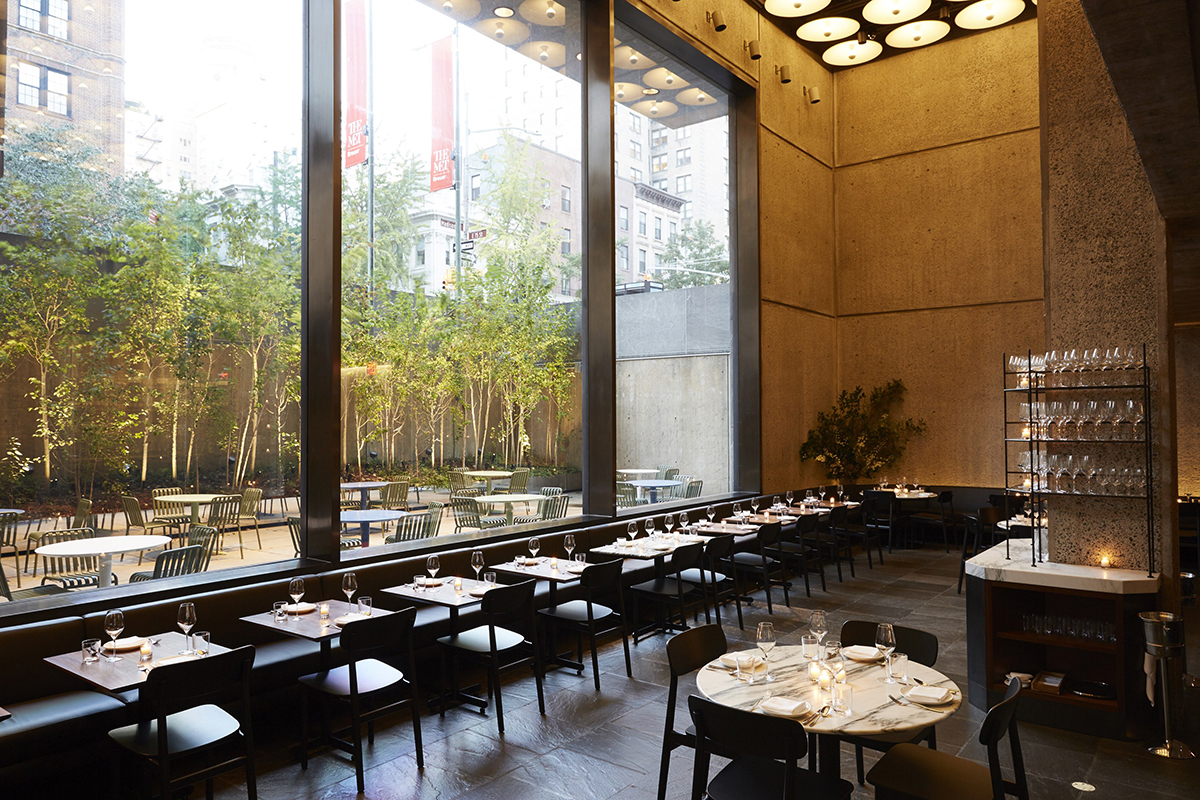 Last years newest best-comer Le CouCou is still a very in place.  Stephen Starr,the restaurateur got together with Chicago-born chef Daniel Rose, from Spring in Paris, to open Le Coucou. It is not only the name that is French. So is the entire menu, a good chunk of the wine list, the plush interior design by Roman and Williams, guests can enjoy a spectacular meal in the most charming of settings.
Tim and Kit Kemp, founders of Firmdale Hotels have now opened The Whitby, their second New York hotel.Situated in the heart of upper midtown Manhattan on West 56th Street at 5th Avenue, The Whitby Hotel is a celebration of contemporary art and design.
Another in hotel is 11 Howard , which is on the south end of Lafayette street. 11 Howard is  a 221-room boutique hotel a collaborative creation between Anda Andrei of Anda Andrei Design and Danish firm Space Copenhagen. The hotel features the works of artists, such as Katie Yang, Dan Attoe, and Hiroshi Sugimoto..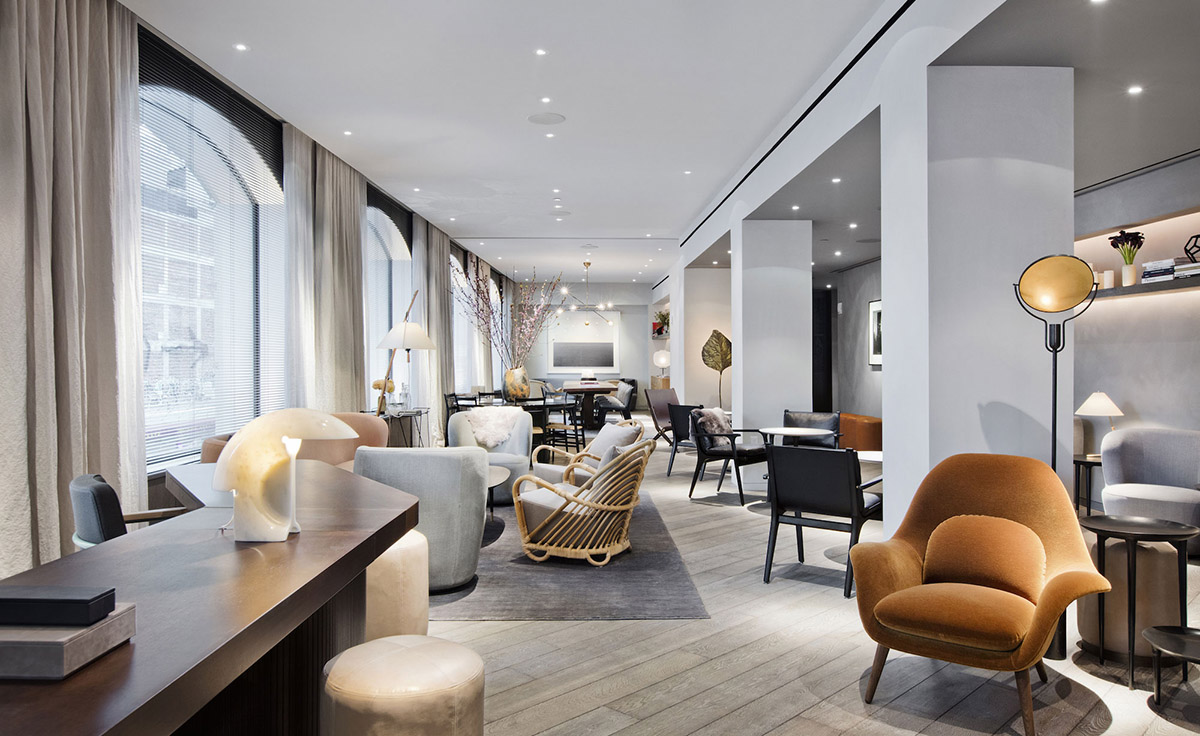 The talk of the town shop of New York is The Guild, flagship Store of Roman and Williams in Soho.  It is a two-story, 650 sq. meter retail emporium. It is rich with sophistication, cool finds, glassware and textiles, modern furniture and antique treasures so it is a furniture store. But it is also a restaurant, La Mercerie,  and an oasis with an Emily Thompson's wild flower shop and a Phaidon creative arts library.